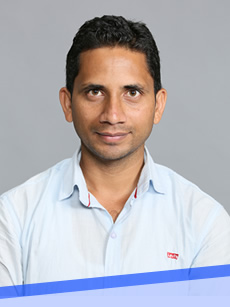 Ph.D student

Shamshul Ansari
出身大学(Alma Mater)

Graduated from Maharajgunj Medical Campus, Institute of Medicine,Tribhuvan University Teaching Hospital.
卒業年次(Graduation year)

2012
出身地(Home country)

Nepal
専門(Major)

Clinical Microbiology (bacteriology)
           

メッセージ(Message)

           
As I have quite interest in research in clinical bacteriology therefore, once I was looking for recently published research article regarding Helicobacter pylori, one of my interesting bacteria. I found a research article about Helicobacter pylori by Professor Yoshio Yamaoka. I was so immpressed by Professor Yamaoka's research activities as more than 200 research publications can be found in Pubmed only. His research activities led me to contact him. Professor Yamaoka responded and guided me very well for achieving the opportunity to be with him as a part of his research laboratory and conducting research work under his direct supervision. Now I came to know here in the department that I can conduct any type of advanced research because all advanced instruments and equipments are available at this department and all the faculties and my seniors are well co-operative and ready to guide all the time. Therefore, I am feeling very happy to be a part of Professor Yamaoka's laboratory and Oita University's faculty of medicine. Thank you Yamaoka sensei.